Tarragon Property Services (TPS) has welcomed Karli Hoffman as its new Director of Residential Property Management.
Hoffman brings more than 14 years of residential management experience to Tarragon Property Services; most recently with Blanton Turner where she worked for 10 years leaving as a Portfolio Manager.
"Karli brings a wealth of knowledge to our growing property management team," said Tina Pappas, President of Tarragon Property Services. "She will lead the effort to ensure our TPS residential portfolio continues to operate at exceptional levels."
In her new role, Hoffman will oversee all aspects of operations for the entire TPS multifamily portfolio of 19 mid-rise, townhome and garden-style properties totaling 3,745 units, and three new 2021 residential lease-ups. She will provide strategic financial and operational direction to Regional Managers and their respective site teams with a focus on meeting goals and objectives of property owners. Furthermore, she will guide teams to adhere to corporate policies and procedures while aligning with the mission, vision, and values of Investco Financial Corporation.
"After 14 years in the Property Management industry, I am thrilled to join the incredible team at TPS," said Hoffman. "I look forward leading such a talented team of professionals and to continue to drive value for our residential portfolio."
Karli earned her Urban Studies Bachelor of Arts degree at the University of Washington, Tacoma.  

About Tarragon Property Services
Founded in 1983, Tarragon Property Services ("TPS") provides property management services for the operating properties owned by partnerships which are managed by Investco, LLC. Currently TPS manages and leases a portfolio of operating properties that includes over 4 million square feet of commercial property (primarily retail and industrial) and 3,745 multi-family units. TPS works closely with Tarragon, LLC, one of the most active developers in the Puget Sound region, by supporting its development projects.
Media Contact
Tarragon Property Services
Michelle Niemeyer - Senior Marketing Manager
mniemeyer@tarragon.com
Kent Station has got you covered, literally! Kent Station tenants have a new-found hope and energy for their businesses thanks to the City of Kent for using funds from the federal CARES Act. A partnership between the City, the Kent Downtown Partnership and Kent Station management resulted in tents and patio heaters to extend outdoor seating. Since the installment of these heated tents in early October, business owners are finding new momentum and an increase in customers coming out to dine and shop.
The added tents and heaters are a big deal for restaurant owners like Julian Ramos, owner of Agave Cocina and Cantina Restaurants. "The tenting provided to us has expanded our allowable seating area and is especially helpful when demand is highest: the weekends. People feel snug, safe and cozy inside the tent," said Ramos.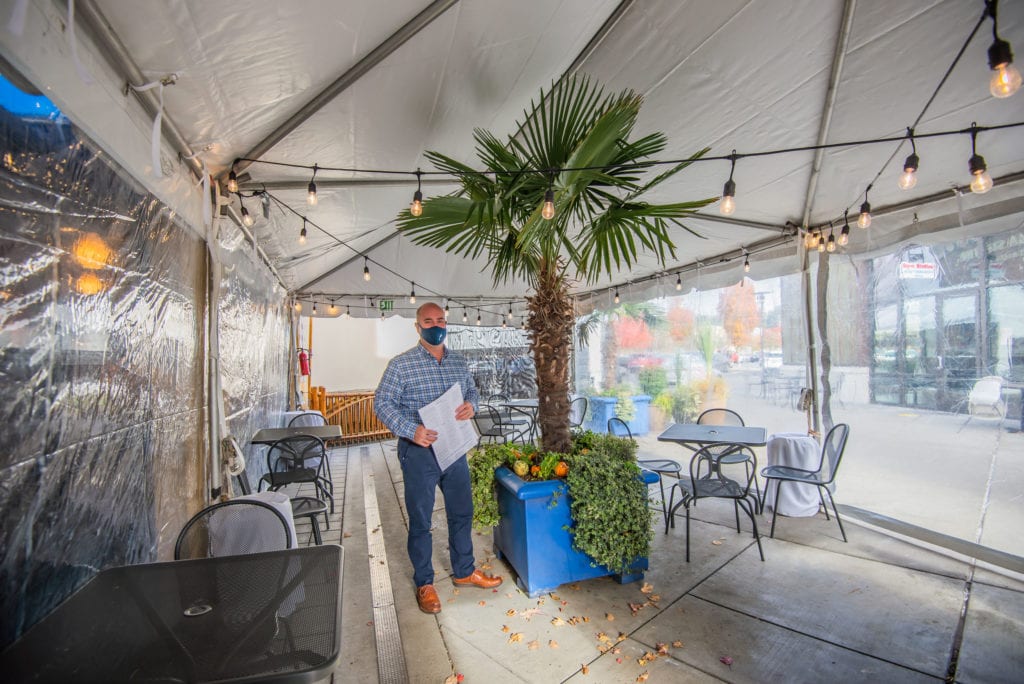 The expanded outdoor dining is not only a welcomed boost for business owners around Kent Station, but it also brings a sense of "normal" to customers. Peggy P. from Puyallup and her sister Betsy M. from Mercer Island have a long-standing tradition to meet at Kent Station with their beloved Great Pyrenees dogs for lunch and to catch up. Both health care workers, they remain very cautious about their exposure to COVID and do not prefer to dine-in, however when they learned about the outdoor heated tents at Kent Station, they were more than thrilled!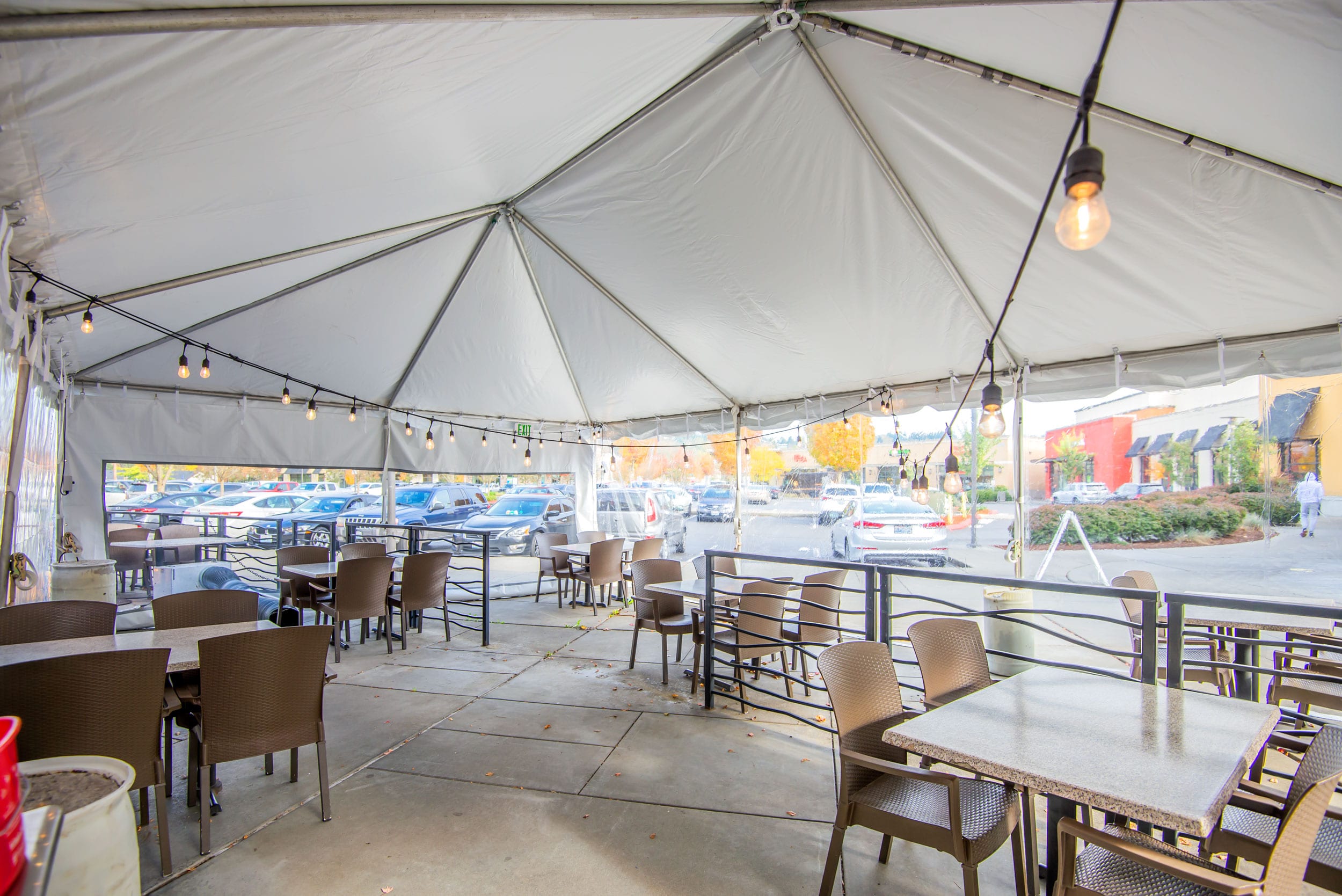 "We are so happy that we have this safe way to meet up all winter long to continue our tradition of lunch together," said Peggy. "We love the fact that not only do the tents have heaters, they are also dog friendly," said Betsy M.
Judy Woods, a former council member with the City of Kent, and a frequent Kent Station shopper explains, "As an older person who is trying to maintain the recommended protocols, I am delighted to have safe places to gather for a meal and conversation with friends during the fall and winter seasons. The tent environment will be helpful to many who have been dreading the bad weather months."
In addition to restaurants extending outdoor dining for customers, AMC theaters just re-opened at Kent Station giving even more reason for people to come out, grab dinner and a movie. Now that AMC has re-opened at 25% capacity, they have been hyper focused on providing a safe environment for movie goers. "We really hope that we continue to see more overall traffic as a result of the re-opening and with options to dine outdoors in a warm, protected and safe environment," says John Hinds, General Manager of Kent Station.
For more information on Kent Station and upcoming events, check out kentstation.com.
About Kent Station: Located on 18 acres in the heart of downtown Kent, Kent Station® is an urban shopping village developed by Tarragon, a Seattle based company. The 470,000 sq. ft., mixed-use development features locally-owned and national retail stores, professional office space, and dining and entertainment, including a 14-screen AMC Theatres Cineplex and a branch campus of Green River College.